Reinforce the idea that we can be "clothed in righteousness" with dress-up clothes that represent a cloak, breastplate and crown of righteousness.

Discussion point: Review how to treat others "righteously."
Most kids love an excuse to dress up. In this activity you will help your children make or select dress-up items to reinforce the idea that we can be "clothed in righteousness." You will need dress-up clothes, cardboard, wide fabric elastic and sticky-back jewels, or little wads of tinfoil to serve as jewels.
Read the verses provided below and ask your children to identify different pieces of clothing mentioned in the verses. For each piece of clothing they note, work together to make that item, then add it to your dress-up box.
Here are some suggestions to help you make the clothing you will need:
Cloak | Use a shiny scarf with metallic thread, a fuzzy blanket or any length of fabric that your children find appealing to wrap up in.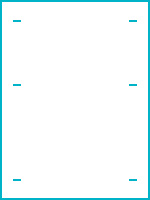 Breastplate | You will need a chest-sized piece of cardboard, scissors and 61 cm (24 inches) of fabric elastic measuring 2.5 cm (1 inch) wide, plus your choice of medium to decorate or cover the cardboard. Begin by slicing 1-cm-wide slits (half-inch slits) in the cardboard as shown below – one at each corner and one in the middle of each side.
To make arm straps, take a 15-20 cm (6-8 inch) length of elastic and push the end through one of the top holes, working from front to back. Tie a knot so the elastic will not pull back through. Take the other end of the elastic and push it through the hole just below it, again tying a knot to keep it from slipping back through. This is your first arm strap. Repeat this step on the other side.
To make the waist strap you will need 20-31 cm (8-12 inches) of elastic. Use the same method you used to make the arm strap, attaching the elastic to each bottom corner of the breastplate. Help your child decorate their breastplate creatively. You may wish to glue large gold or silver buttons over the elastic knots and add other details using colourful ribbons or markers.
Crown of righteousness | Cut a 5-cm-wide (2-inch-wide) strip of cardboard, making it 5 cm longer than the circumference of your child's head. Help your child cut a jagged edge on one side of the strip. Colour and decorate the crown, leaving a 5-cm space at one end to allow for overlap. Use a glue gun or stapler to join the two ends of the cardboard, overlapping the ends as needed to fit around your child's head.
Pray, based on Colossians 3:12-14: "Lord God, please clothe us with compassion, kindness, humility, gentleness and patience. Help us to put up with each other and forgive whatever complaints we have about each other. We want to forgive others as You forgive us. And most important of all, please help us to 'put on' love, so we can be a unified family who lives together enjoying peace."
Talk about the different ways your children can choose to be righteous. When you see your children choosing to be righteous, you can affirm them by giving out jewels to add to their crowns or breastplates. The "jewels" can be taken from old strings of beads or pearls. (Beads can be a choking hazard so omit this idea if you have young children in the house.) To add interest, you may also wish to have your children connect a "righteous act" with a specific jewel colour. For example, pink might represent kindness, yellow might represent generosity, love, justice or mercy etc. Continue to add jewels for the duration of your study on righteous choices.
Relevant Scripture
Isaiah 64:5-6 "You come to the help of those who gladly do right, who remember Your ways. But when we continued to sin against them, You were angry. How then can we be saved? All of us have become like one who is unclean, and all our righteous acts are like filthy rags; we all shrivel up like a leaf, and like the wind our sins sweep us away."
Isaiah 59:17 "He put on righteousness as His breastplate, and the helmet of salvation on His head; He put on the garments of vengeance and wrapped Himself in zeal as in a cloak."
Isaiah 61:9-11 "Their descendants will be known among the nations and their offspring among the peoples. All who see them will acknowledge that they are a people the Lord has blessed. I delight greatly in the Lord; my soul rejoices in my God. For He has clothed me with garments of salvation and arrayed me in a robe of righteousness, as a bridegroom adorns his head like a priest, and as a bride adorns herself with her jewels. For as the soil makes the sprout come up and a garden causes seeds to grow, so the Sovereign Lord will make righteousness and praise spring up before all nations."
2 Timothy 4:7-8 "I have fought the good fight, I have finished the race, I have kept the faith. Now there is in store for me the crown of righteousness, which the Lord, the righteous Judge, will award to me on that day – and not only to me, but also to all who have longed for His appearing."
Colossians 3:12-14 "Therefore, as God's chosen people, holy and dearly loved, clothe yourselves with compassion, kindness, humility, gentleness and patience. Bear with each other and forgive whatever grievances you may have against one another. Forgive as the Lord forgave you. And over all these virtues put on love, which binds them all together in perfect unity."